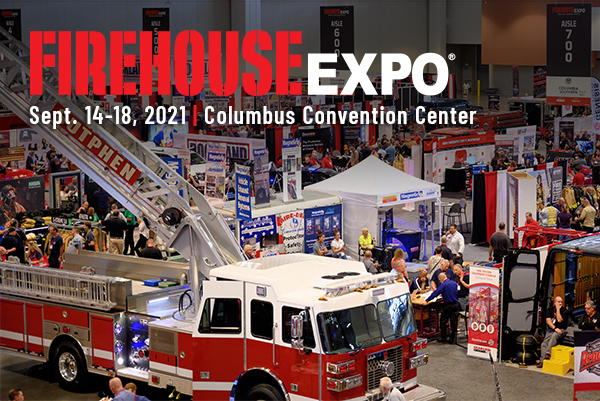 Visit These Featured Exhibitors at Firehouse Expo
Exhibit Hall hours:
Thursday, Sept. 16 – 10:00am – 4:00pm
Friday, Sept. 17 – 10:00am – 4:00pm
Saturday, Sept. 18 – 9:30am – 1:00pm
-
-
BK Technologies | Booth # 526

We Build Technology For Heroes®! Join BK Technologies at booth #526 to view our latest innovations in our communications technology!
-
Bound Tree Medical | Booth # 1433

Bound Tree Medical is a national distributor of prehospital emergency medical supplies, equipment, and pharmaceuticals for EMS providers, including First Responders, EMTs and Paramedics. Come see us at Booth 1433.
-
Digitech | Booth # 1435

We hope to see you in Columbus! Make sure to visit Booth #1435 on the show floor.
-
Fire Recovery USA | Booth # 1541

Fire Recovery USA is the nation's largest cost recovery company serving fire and EMS departments across the United States. We specialize in recovering the cost of Fire Department Responses to MVC's, collecting revenues for Fire & Life Safety Inspections, and Maximizing Dollars Collected per trip on EMS Transports.
-
FirstNet | Booth # 437

FirstNet is THE dedicated wireless communications ecosystem built with and for first responders. It provides so much more than just the ability to make and receive calls. Together with first responders, we are working to make your communications simpler, faster and more direct. So, you can focus on what's important.
-
IFSTA/Fire Protection Publication | Booth # 1220

Firefighter training has never been more customizable than with IFSTA products. Come see us at booth 1220!
-
Innotex | Booth # 1214

Visit the INNOTEX booth #1214 to get expert advice on INNOTEX's renowned firefighter and first responder gear and learn about our latest products!
-
INVISIO | Booth # 730

Welcome to the 2021 Firehouse Expo! INVISIO is happy to be here and hope to see you at our booth.
-
Kitchen Fire Stop | Booth # 1439

UL300A certified residential stove/cooktop suppression system. Stand alone, DIY, built for any rangehood/microwave. For existing/new buildings.
-
Lexipol LLC | Booth # 719

Lexipol empowers first responders and public servants to best meet the needs of their residents safely and responsibly. We are the experts in policy, training and wellness support for first responders and government leaders, helping address public safety challenges and improve the quality of life for all community members.
-
MaTex Hose | Booth # 1338

Please visit MaTex Hose booth to speak with experts on fire hose systems solutions.
-
National Foam | Booth # 839

National Foam, will feature its portfolio of GreenScreen certified Fluorine Free foams designed for the Municipal and Industrial Firefighter.

nationalfoam.com
-
NEP Fire Services | Booth # 936

NEP Fire Services strengthens fire service organizations through its state-of-the-art websites, apps, and organizational management tools.

nepfireservices.com
-
North American Rescue LLC | Booth # 715

Discover Products with a Mission® to Save Lives in every emergency crisis. Visit North American Rescue, Booth #715.
-
Path Master, Inc. | Booth # 934

Welcome to the Firehouse Exp 2021! Path Master Inc., is the leader in traffic technology solutions throughout Ohio, West Virginia, Kentucky and Western Pennsylvania. Path Master provides Emergency Vehicle Preemption (EVP) for numerous Fire Departments throughout our territory and has the ability to offer multiple solutions to assist emergency responders arrive quickly and safely to their destination. If your station is looking to incorporate Electric Vehicles to your fleet- we have the EV chargers to get you moving. Stop by our booth #934 and enjoy the conference!

pathmasterinc.com
-
Provident | Booth # 429

Looking for insurance? Stop by booth #429 to learn about our customized programs for the emergency services. We look forward to seeing you!
-
Rocky Brands, Inc. | Booth # 1235

We are here to serve those who serve. Rocky is a hard-working company that builds rugged, reliable, innovative boots for the hard-working men and women who depend on us. We serve those protecting our communities and serving our country.
-
Safeguard Equipment | Booth # 630

COMPASS is a wearable voltage and current detector. It detects electrical threats (even through walls), so you never make a fatal reach.
-
SimsUshare | Booth # 1218

SimsUshare is the most advance, versatile, all-hazards training simulation software. Stop by booth 1218 to see SimsUshare in action!
-
Snap-tite Hose | Booth # 733

The industry's most dependable and innovative hose products, by industry leader Snap-tite Hose. Learn more about us at

snaptitehose.com

.
-
Stat Portals | Booth # 818

Stat Portals has turned all your daily paperwork into an easy to use Digital Platform. Stop by booth 818 to find a custom solution!
-
Turbo Road Flare | Booth # 1229

Please visit Turbo Road Flare, State of the Art Electronic Road Flare at booth 1229. Enter a drawing for a six pack of Turbo Road Flares.
-
Waterous Company | Booth # 820

Stop by Booth # 820 to say hello!
-
Waterway Co-Operative, LLC | Booth # 1534

Become your own boss. Stop and see us about becoming an owner. Join the largest and best hose testing company in the USA. Areas available. Area's open Ohio, Tennessee, Western New York, Kentucky, Indiana, & Illinois.
-